Guide To Marine Navigation Lighting

Position of Boat Navigation Lights

Most of the variations that can be found in the different vessels can be read about in most almanacs. At the very basic level, a vessel needs to show a red light to port and green light to starboard.
Depending on different vessel sizes, one or more colored or white lights are used as well. For vessels that are 12 ft in length or shorter, the navigation lights shall be visible from a range of one nautical mile and for the ones that are longer than 12 ft the required visibility range is 2 nautical miles. From 5 degrees above to 5 degrees below the horizontal happens to be the required minimum intensity in a vertical sector.
International Navigation Rules state that the boat navigation lights should be placed above the uppermost continuous deck. In case separate fixtures are used for the red and green sidelights, the masthead or all-round white light is placed as close as possible to the vessel's fore and aft centerline. The masthead or all-around light needs to be positioned at least 1 m or 3.3 ft above the sidelights. Below are the basic positions of navigational lights.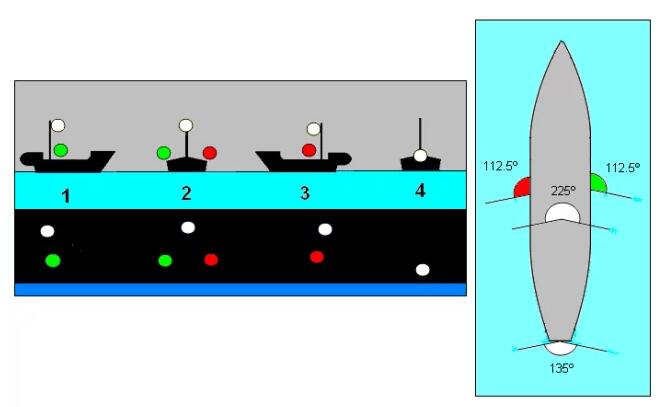 Basic Boat Navigation Lighting System
Navigation Light White Light: Small dinghies that are 7m or less in size are required to carry a torch having a white light that can be flashed when needed.
All-Round White Light: An all-round white light is expected to be displayed by a small boat, up to 7ft long that is under power and can go beyond 7 knots of speed. This light must be visible at an angle of 360 degrees and from two miles away. An all-round white light is also used when the boat or vessel is at anchor but not at a designated anchoring area. This is to make sure that the ship is visible to all the nearby ships to avoid any accidents.
Stern and Combined Side Lights: A stern light is a white light which is installed at the end of a boat. A vessel that is over 7 m or 23 ft in length is expected to show red and green side lights when sailing. Each of these lights needs to cover an arc of 112.5°. The sidelights may be combined in one lantern at the bow when below 25 m or 65 ft. The white stern light can be seen over an arc of 135°. These lights need to be visible from a distance of a mile and need to be placed 39 inches below all white lights for boats of lengths equal to or less than 12 ft.
Masthead Light: A combination of sidelight and stern light in a tricolor combination may be used sailing yachts of heights 20 m or lower. A masthead light is required by vessels of lengths between 39.4 ft and 65.6 ft. It is placed in the masthead whose height provides excellent visibility. Still, stern lights and sidelights should be fitted separately in case of or use under power along with steaming light. This kind of light needs to be visible across an angle of 225 degrees and from a minimum distance of 2 miles.
Separate Lights: The displaying of the tricolor masthead light is not allowed in case of yachts that are longer than 20 m or 65 ft. Instead, they use them separately. Often on large sailing vessels, these all-around, red over green lights are present. These red and green sidelights need to be visible from a distance of one mile and across an angle of 112.5 degrees.
Steaming Lights Combined Lights: A combination of the masthead and stern light are used in case of power crafts that are less than 20 m or 65 ft in length. The arrangement is present at the bow.
Single Steaming Light: Visible over a 225 degrees arc, a masthead steaming light is used by power driven vessels that are up to 50 m or 160 ft long. Separate stern lights and sidelights are used in case of a length exceeding 20 m or 65 ft.
Two Steaming Lights: Power-driven vessels that span over 50 m or 160 ft in length display two masthead steaming lights. The forward light placed lower than the aft light with both of them being visible over an arc of 225° with the sidelights and separate stern light.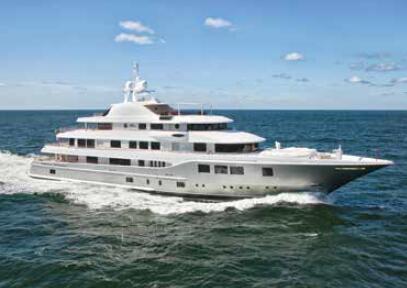 Return list